Zamzar accepts a wide range of file formats. RA (RealMedia Streaming Media), WPD (Wordperfect Document), DOCX, and FLV are among the major formats supported by the web service. With a few clicks, users may work effortlessly with these and many other formats. Zamzar EPUB to PDF is an excellent choice for document and image conversion, but its file size limit of 50 MB makes it nearly hard to use as a video converter. Furthermore, using the service for audio conversion can be problematic at times. As the file size increases, the time required for uploading, transcoding, and downloading increases. Furthermore, most lengthy videos easily exceed the 50 MB restriction.
Because it is limited to two conversions per day, the free version is only useful for extremely modest conversions. customers can use the online tools for free on a daily basis, but they are limited to only two file conversions, which is a significant limitation for customers who want to use this frequently. Zamzar, on the other hand, offers three paid options: Pro, Basic, and Business. These options vary in terms of conversion speed, online storage space, maximum file size limits, and so on.
18 Best Zamzar Alternatives Free Online In 2023:
1. LightPDF
LightPDF is an excellent PDF converter with a robust toolkit for producing, editing, dividing, and merging PDFs. It also lets users convert PDF files to JPGs and other picture and text formats. Because of the inbuilt OCR technology, the original format of the text will be preserved after conversion. It guarantees that the application remembers the configuration of letters, typefaces, and other elements. You will receive the text that can be modified in LightPDF by deleting or adding parts, adjusting formatting, and so on.
Additionally, editing features allow you to add markups, modify PDFs, and so on. This Excel-to-PDF converter can also be used to add text/image watermarks to PDFs and sign documents. It is one of the top websites similar to Zamzar.com.
Website: https://lightpdf.com
2. SmallPDF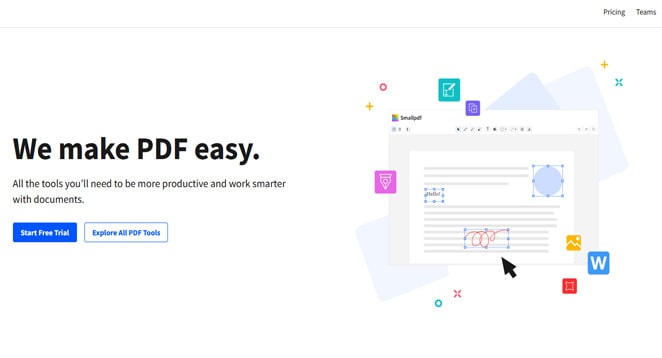 It is the best free PDF converter since it turns your documents into photos in seconds and with high quality. Furthermore, the website has no size restrictions and does not require registration. As a result, it is one of the best free PDF editors available. Each embedded image in your PDFs can be retrieved and exported in a variety of formats, including JPG. The resolution and quality will remain unchanged.
You can use this website to convert in any browser that supports the Windows, macOS, and Linux operating systems. It does not require the installation of any third-party apps to utilize. It use SSL connections to ensure the safety of your downloaded data. All documents converted via the website are immediately wiped after one hour. Offline PDF conversion to JPG, PNG, GIF, TIFF, and BMP is possible with a desktop version. It is the greatest website comparable to the Zamzar Converter JPG to PDF file converter.
Website: https://smallpdf.com
3. PDFliner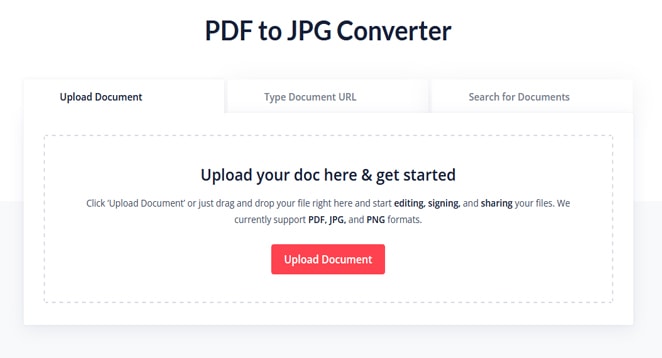 PDFliner's conversion tool, like Zamzar's online file converter, allows you to easily convert PDF files to various formats. This free online converter allows you to modify PDFs while on the road. If necessary, you can edit PDF files and add e-signatures, watermarks, and password security. Furthermore, the application has a large, ever-expanding library of relevant formats and templates. Users can use annotation tools to make changes to existing PDF documents.
Website: https://pdfliner.com
4. Adobe Acrobat Reader
It is widely used as a free PDF reader and converter. The online program transforms PDF files to PNG, TIFF, and JPG formats flawlessly. Start it in a browser, such as Google Chrome, drag and drop your files, and wait a few seconds for the procedure to finish. Even if this is your first time using this converter, you will soon grasp its operation. Adobe Acrobat offers a free trial version of the program for Mac and Windows customers who wish to test its features before purchasing the full version. It lets you edit, divide, and merge PDF files, as well as add and remove PDF pages. PDFs can also be resized and converted to GIFs, JPGs, and other standard formats. You might think of it as the greatest Zamzar conversion alternative.
Website: https://www.adobe.com/acrobat.html
5. InvestInTech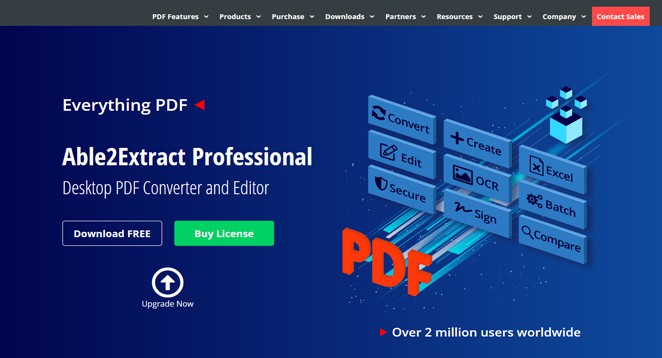 The following option on our list of the best Zamzar Converter free download online converters is InvestInTech Online PDF converter. The online tool, like its name and every other tool discussed in this post, is an effective way to make photos from any PDF. The software works wonderfully regardless of your browser or device. You can also download standalone software for Windows, Mac, or Linku devices if you want to avoid using the online solution or dealing with conversion demands frequently. As a result, the software is a versatile free PDF-to-JPG converter for Windows 10.
Website: https://www.investintech.com
6. Boxoft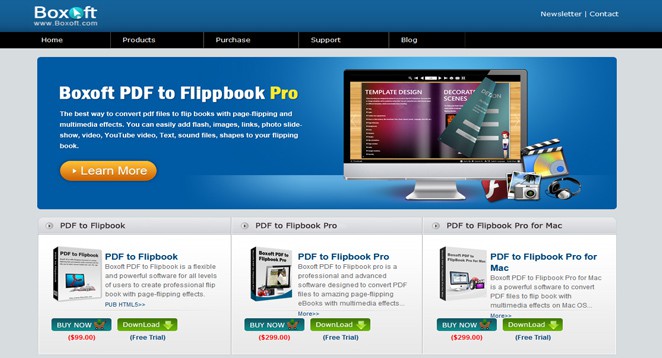 This free Zamzar PDF to JPG alternative is compatible with Windows and macOS and offers a variety of file conversion and saving options. You can add numerous documents and entire directories using the drag-and-drop capability. There is also the option of batch conversion. The user interface is simple. You can switch between the two modes. You can view a file's name, status, size, and modification date after downloading it. It makes it easier to arrange them according to these criteria.
Website: http://www.boxoft.com
7. Free PDF Solutions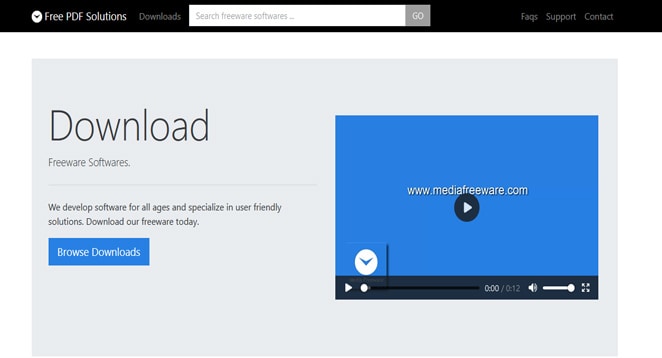 It is free software for converting PDF files to a variety of different formats. Because of its simplicity, it immediately converts documents to the needed format. It takes very little time to install Free PDF Solutions. It also has a well-designed user interface. A file browser or a folder view can be used to import documents. The application translates data rapidly without consuming a lot of CPU or RAM, therefore it consumes few system resources. However, it must deliver exceptional results in terms of quality. It is only available on Windows. In addition, the output formatting is abysmal. The biggest advantage of this program is that it allows you to convert several files at the same time.
Website: https://www.freepdfsolutions.com
8. Icecream PDF Converter
This PDF converter, like the greatest Zamzar PDF to DWG competitors, is available in both free and premium editions. However, the free version is limited to file conversion. The ability to integrate all files into a single PDF document is one of its most exciting capabilities. It also has a PDF reader and the ability to open password-protected files. PDF files can be converted to JPG, DOC, ODT, BMP, TIFF, PNG, and GIF formats. Even the most basic parameters will be sufficient for simple and high-quality conversion.
Website: https://icecreamapps.com
9. PDF2Go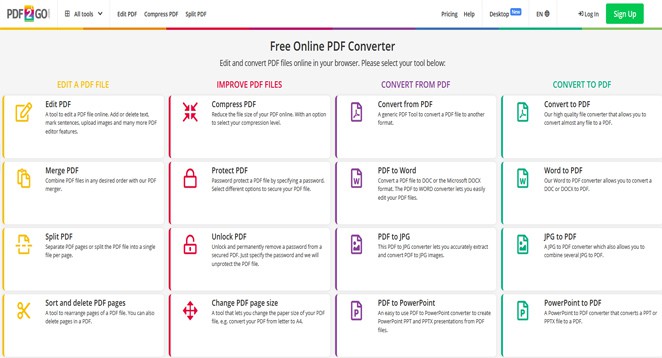 The second best service on the list for converting PDF to other formats is the PDF2Go converter. It is one of the best programs since it allows you to upload files for conversion via Dropbox, Google Drive, or your computer's RAM. The app is also available for smartphones and tablets.
You can also install the PDF2Go Google Chrome plugin for recurring needs. Because it allows for more customization and downloads, the tool could be regarded as a more advanced alternative to PDF2JPG.Net. To download the image, you can adjust the color filter, height, and width, as well as apply filters like Enhance, Sharpen, Despeckle, or Equalise. Everything is entirely liberated and unrestricted. It is the most effective Zamzar file conversion solution.
Website: https://www.pdf2go.com
It is a fantastic free Zamzar PDF to JPG converter option that works flawlessly on both Windows and Mac. It is appropriate for both professional and novice users as part of PDFelement Pro. The conversion process is swift, and the photographs are of high quality. Because of the strong built-in OCR (Optical Character Recognition) capacity, it reads the input graphic files and stores them as text. Output files can be opened in Microsoft Word, Excel, PowerPoint, and other programs. It can convert numerous files to PDF on almost any device. As a result, papers may be scanned and altered quickly.
Website: https://pdf.wondershare.com
11. PDFMate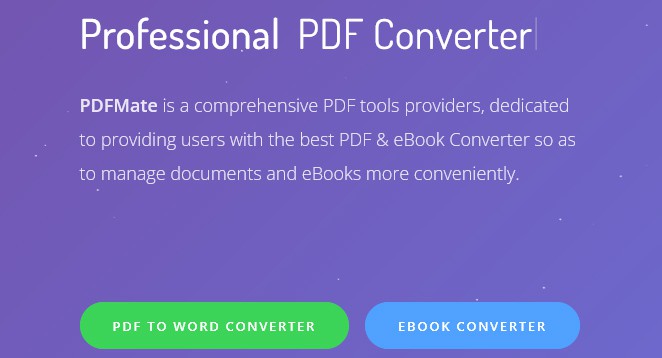 It is one of the best free PDF to Word converters that also supports a variety of other file types. Furthermore, it allows you to convert each PDF document page into a separate JPG file. Without worrying about downloading issues, you can read the contents of a PDF file as a JPG image and share it online. You can also save a piece of a PDF document to your mobile device to read on the move. It is regarded as the most effective www zamzar com solution for PDF file converting. This PDF converter is easy to use and has a friendly UI. It also supports batch conversion and can read PDF files without the use of Adobe Acrobat Reader.
Website: https://pdfmate.com
12. iSkysoft PDF Editor
It is a multifunctional program that allows you to easily edit, convert, share, and sign files. Furthermore, it includes OCR technology, which allows you to incorporate scanned documents into your workflow without the need for additional steps or third-party applications. It, like Zamzar login, supports a variety of formats and gives outstanding results. It is possible to add, rotate, extract, crop, paste, replace, copy, and delete images.
Users can add annotations to files to communicate information with their teammates. Personalized drawings, notes, observations, stamps, and text fields are also available.
Website: https://pdf.iskysoft.com
13. Movavi PDF Editor
It is the best free PDF converter for macOS and Windows, comparable to Zamzar because it allows you to update previous presentations with new tables, images, and charts, as well as import data derived from other software such as AutoCAD and Excel.
PDF files can be converted to HTML, TXT, DOC, Microsoft Word, and EPUB formats. Individual document pages can also be exported as JPG, PNG, or BMP images. PDFs can also be created from Microsoft Office and graphics files. You can add, alter, and format content in your document before converting it. You may also insert, clip, and resize photos using the app. As a result, the conversion process is efficient and yields high-quality results.
Website: https://www.pdfchef.com
14. XODO
The tool's functioning and interface are straightforward. Furthermore, because the service is delivered through the internet, it is compatible with Windows, Android, iOS, and a variety of other devices and operating systems. In addition to the web service, you can download the standalone app of this best PDF converter online. The three-step conversion procedure of the solution is exceptional and valuable to many students, professionals, and other users. You can also add documents from Google Drive or Dropbox to the storage on your device.
Website: https://pdf.online
15. EaseUS PDF Online
In addition to JPG conversions, the website offers PDF to Word, PPT, and Excel conversions. Converting from one format to another is also possible. Because of its simple and easy operation, it is ideal for both novice and experienced users. Furthermore, the security constraints prevent anyone else from accessing the conversion files. There are no security concerns because your data is encrypted with 256-bit SSL technology.
The web-based converter is compatible with a variety of operating systems, including Windows, Linux, Mac, and cell phones. To begin, upload or drag and drop your PDF file into the website to convert it to JPG. Then, simply wait for the tool to make the conversion for you. Download the file and save it to the desired location. It is one of the top Zamzar PDF converter websites.
Website: https://pdf.easeus.com
16. Soda PDF
Soda PDF is a robust and versatile PDF software package that includes all of the necessary tools for converting, editing, compressing, merging, and protecting documents. Other apps handle all of this with evident complexity, while Soda PDF provides simplicity, with actions taking only a few clicks. It is also referred to as Soda PDF Anywhere since it may be used as an online or desktop version on Windows, Mac, Linux, Android, and iOS without restrictions. It is the most dependable Zamzar option to consider on this list.
Website: https://www.sodapdf.com
17. PDF SwifDoo
SwifDoo is a fantastic tool for converting PDF files to various formats. This application offers an online converter that simplifies file conversions. You may use this capable PDF tool on Windows 10, 8, 7, and XP to edit, merge, split, and convert PDF files to JPG photos. It can convert PDF to JPG, BMP, TIF, and PNG at various resolutions. What important is that it can convert a multi-page PDF to a single JPG image or separate image files, as well as batch convert many PDFs to JPG images. The text and image quality are not compromised when you convert PDF files to JPG photos. However, if necessary, you may simply modify the text. It is the best file conversion program, comparable to Zamzar.
Website: https://www.swifdoo.com
18. PDF24
The fact that we are nearing the end of our list of the best free Zamzar PDF converter online only occasionally means that the solutions are worsening. PDF24 PDF to Images, on the other hand, is a good solution for converting documents on Android, Mac, Windows, Linux, iOS, and other platforms. This service is available online and does not require you to download or install any software. You can download the standalone app if necessary. PDF24 PDF to Images is extremely secure and always protects the documents you provide. PDF24, like a few other tools listed as the best Zamzar PDF file conversion for Windows 10, lets you adjust the image quality.
Website: https://tools.pdf24.org
Final Words:
Having said that, you now have an answer to the question, "Is Zamzar safe?" Because we discovered that user data is not completely secure, we believe that DVDFab Video Converter is the best option to Zamzar because it does not gather any data and is a desktop application. Users can convert any video format and resolution from one to another. As a result, it is preferable to use this desktop programme.